The brothers ran together, again together. These grown men with children of their own who now run together, up at the crack of dawn to reconnect the joy of boyhood that's always down in the heart somewhere.
We had watched the old home movies the night before, those captured bites of colored motion and time, my husband and his brothers as playful little boys in snowball fights and splashing wars and games with Grandpa.
I heard the small clatter in the kitchen at 5:30 a.m. as the brothers stole a mini-breakfast before heading over to Smith Rock for the sunrise run with several hundred other brave early rising runners. I wanted to go, to see it myself and snap that photo at the finish line. But it was more than the early hour that kept me home. This moment was just for the brotherhood, this triangulation of boys that makes its own unique folk sound just like that metal instrument that sings when touched with the wand. The triangle can always beat the call to dinner later.
Back home with stretched legs and aching calves, I saw the boys happy and accomplished and fulfilled. Next year at Smith Rock can be the call. Shouldn't we all run this race together?
After the run, we all, the brothers and families, headed out for a day full of fishing, swimming, sunning, and barbecue. The brothers' children then had splashing wars and mudball fights and silly games at the lake.
{Counting One Thousand Gifts~#31-40}:
::brothers running in the early morning::racing numbers::catching little bass and throwing them back::home movies 40 years old::the good family memories::little boy making mud trails on shore::little girl building princess castle of same mud::playing with cousins::grilling burgers::blowing out candles on the cake::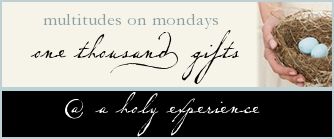 Technorati Tags: childhood, counting blessings, country life, Central Oregon, faith, family life, Smith Rock, One Thousand Gifts