She smiled a toothless grin, eyes sparkling as she handed me the note, carefully written in her ever improving handwriting but still lopsided and multicolored. "Dear Mom, tonight we will go to Starbucks and I will pay. We will leave at 5:00 and you can bring a friend."
Not only had she stolen my heart, she set up a play-date for me. Her own money, her own kind heart, her…just her. She really melts me. A tear escaped later at Starbucks as she paid for my coffee, along with our friend Julia's latté and her own hot cocoa, and I fought the strong urge to pay myself. No, I had to let her do this. This gift was hers to give and her eternal blessing.

::love letters from my children::dates with daughters::connections with sons::a faithful dog::a broken egg, found and treasured::Vacation Bible School::crème brûlée and the way it makes me all happy when seven little girls say it's the best dessert ever and thank you for making it::friends who bless::so many good books::summer swims::counting my blessings today.
{Counting One Thousand Gifts~#21-30}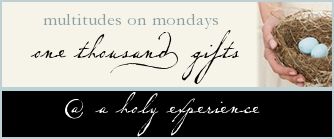 Technorati Tags: Central Oregon, childhood, counting blessings, country life, One Thousand Gifts